D-Pre Mic Preamps
The Yamaha MG-06X audio mixer is equipped the same low-noise/high-spec Yamaha D-PRE microphone preamps as can be found in Yamaha's Steinberg interfaces and premium MGP mixers. Mono inputs are outfitted with Neutrik combo connectors to accept XLR mic/line signals or ¼" balanced inputs. 48v phantom power is available on these channels to allow for the use of dynamic mics or condensers.
Single Knob Channel Compressors
Yamaha's one-knob smart compressors adjust threshold and attenuation in a single sweep, preventing loud signals from sticking out in your mix by evening out their dynamic range. These compressors are on the utility side of the spectrum with a natural sound that gets the job simply and without frantic knob jamming when you're on the spot. Great for snare drums, bass guitars, and dynamic vocalists in a live setting. Available on the MG10XU, MG12XU, MG16XU, and MG20XU only.
Onboard Effects Processor
The Yamaha MG06X has built-in reverbs and delays for sweetening live vocals and adding depth to layered tracks. Choose from 6 programs including hall & plate reverbs and long & short delay patterns.
Road-Ready Metal Chassis
Yamaha listened when users voiced concerns over the plastic housings found on earlier MGs. As of 2014, all Yamaha MG mixers (the MG06X included) now have rugged metal chassis to survive banging around in a backpack or travel rack. All models 12 channels and up are rackmountable with detachable IEC power cords.
Removable Power Supply
The Yamaha MG06X's removable power supply saves wear and tear on the cable and tidies up your work station. This thoughtful feature will be appreciated by traveling DJs and drummers with limited storage.
Overview of the MG06X 6-Channel Yamaha Mixer: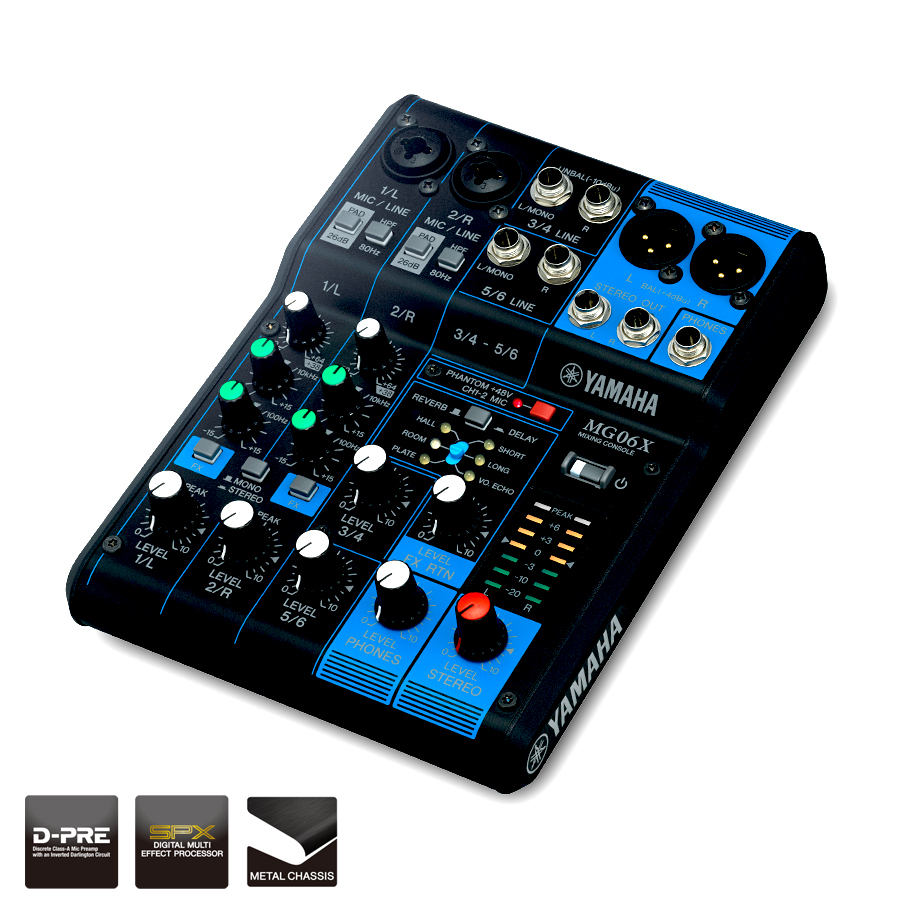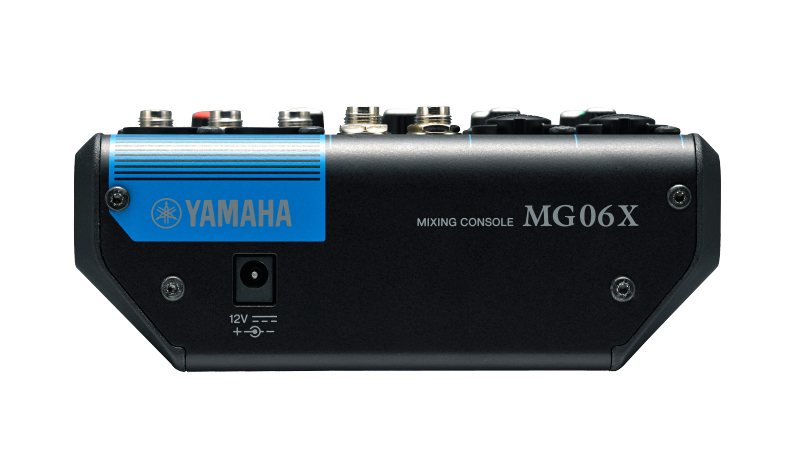 Third generation of the Yamaha MG series of analog mixers
Great as a portable karaoke mixer or line-level mixer
Onboard FX: 3 reverbs + 3 delays
6 analog inputs: 2 mono, 2 stereo
2 Yamaha D-PRE premium mic preamps
Balanced XLR stereo outputs for long cable runs
3-stage LED master meter
Compact
Lightweight
Rugged metal chassis
Removable power supply
Pad switches (ch 1-2)
48v phantom power (ch 1-2)
Two band EQ + 80 Hz HPF (ch 1-2)
Dimensions: 8" x 6" x 2.5"
Weight: 2 lbs
*USB connectivity not available on the MG06X mixer
Don't need onboard FX or USB connectivity? Check out the Yamaha MG standard series for pared down versions of the same mixers.