Worldwide voltage for 100-240V AC input. Micro-processor control (-Delta V detection) which automatically controls the charging process.
Four independent charging channels for individual battery charging and detection.
Constant charging current mode; trickle current when fully charged.
Eight hours charging time cut-off to ensure safety.
TN-156 Operation Instructions:
Insert 1 to 4 pieces of 1.2V AA/AAA rechargeable Ni-MH batteries into the battery compartment.
Make correct contact with polarity (+ and -) according to the sign in the battery compartment.
Before charging, insert the batteries into the channels, then connect the adapter's plug to the power supply. The LCD screen will light up and the battery gauge icon will be animated, indicating proper charging for the corresponding channel.
When the battery gauge icon is full and flashing, the battery in that channel is fully charged. Please extract the battery and unplug the charger.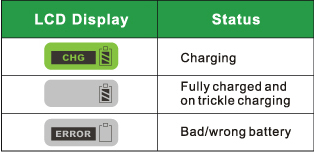 Easy-to-Read LCD Indicators

Tenergy TN-156 Specifications:
Input:
100-240V ~ 50/60Hz 0.2A
Output:
AA 1.2V x 2 ---------1000mA
AA 1.2V x 4 ---------500mA
AAA 1.2V x 2 --------500mA
AAA 1.2V x 4 --------250mA