StudioLive RM32AI - A Revolutionary New Digital Mixing System
Based on the StudioLive™ AI-series engine and controlled with powerful, battle-ready UC-Surface touch software for Mac®, Windows®, and iOS®, the StudioLive RM32AI rack-mount digital mixer is scalable and compact. It provides 32 inputs with recallable XMAX™ Class A preamps, 16 line outs, and 3 main outs (left, right, and mono/center); 32 internal channels and 25 buses; a 52x34 FireWire 800 recording interface; 96 kHz operation; and extensive signal processing. Designed for live-sound mixing and studio recording, the RM32AI's Active Integration™ technology includes direct Wi-Fi and Ethernet networking and tightly integrated Capture™ recording software with true Virtual Soundcheck mode and Studio One® Artist DAW for Mac and Windows, and a Nimbit® account for online music promotion and distribution.
Wireless Mixing From Anywhere in the Venue
Not every club or venue has an ideal mix position. Most of time, the sound guy is shoved in a corner or up in a balcony as an afterthought, not as a primary concern. The StudioLive RM32AI solves this by making the mixing position unattached the hardware. But more than that, now you don't have to worry that someone may mess with the mixer while you're mixing remotely. The mixer has no physical controls and is controlled 100% by the device you're using remotely. Now with just some simple wireless networking equipment, you can mix from anywhere in the venue with your Mac, PC, or iPad. Or perhaps you do have the perfect mixing location and you want to use a touchscreen to mix rather than a physical surface. You can do both with the RM32AI. The new Presonus UC-Surface software makes mixing easy and intuitive and all completely wireless.
UC Surface Control Software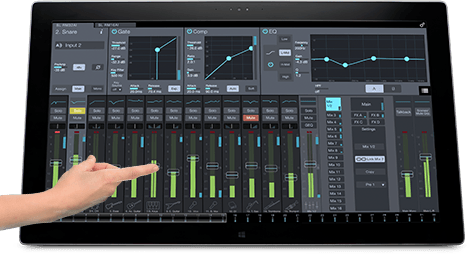 The new UC Surface software included with the RM32AI makes mixing easy. Everything is laid out in a friendly, intuitive, and easy to navigate user interface. All settings, gain controls, and routing is recallable at the touch of a button. Everything from faders to EQ and dynamics controls are very straight forward and easy to understand. What's more, the software is exactly the same no matter what platform you're using. The interface is especially fun to use with a touchscreen system like an iPad or Windows 8 touchscreen computer.
Dedicated I/O
The RM32AI features an excellent assortment of I/O. All inputs are standard XLR with Presonus XMAX preamps. Main, Mono, and Mix outputs are all standard balanced XLR as well. The RM32AI also features an Aux/Tape RCA input, hardwired ethernet networking port and digital S/PDIF output as well.
Presonus StudioLive RM32AI Features Include:
Fully recallable mixer
32 locking XLR inputs with recallable XMAX™ Class A mic preamps and +48V phantom power
16 XLR line outputs on the front, mirrored on rear-panel DB25 jack
3 XLR main outputs (left, right, mono) with analog trim pots
32 LED meter grid
32 internal channels
25 mix buses

16 aux mix buses
3 main mix buses (left, right, mono)
4 internal FX buses (2 reverb, 2 delay)
Stereo solo bus

Fat Channel signal processing on all input channels and all buses, with 4-band parametric EQ, compressor, gate, limiter, and more
52x34 direct digital FireWire recording interface
UC-Surface™ battle-ready, live mixing and control software

Designed specifically for live sound mixing
Multiplatform support for Mac®, Windows®, and iPad®
Windows 8 multi-touch-compatible for large touchscreen mixing
Contextual-based navigation for quick, intuitive access to all mixing functions

Compatible with free QMix™-AI personal monitoring control app for iPhone®/iPod® touch
Complete solution: Includes Capture™ live-recording software and Studio One® Artist DAW for Mac and Windows, and Nimbit® account for online music promotion and distribution.
USB jack and included Wi-Fi LAN adapter provides wireless control
2 FireWire S800 ports, 1 Ethernet control port, and S/PDIF digital output
Option card slot for future expansion, Thunderbolt, Dante, and AVB cards coming soon
Up to 96 kHz operation
Front-panel Mute All button temporarily mutes all inputs and outputs
Stereo tape input (RCA jacks)
Headphone output with volume knob and selectable source
+48V Meters button to display phantom power assignment on the meter grid
1x1 MIDI interface
4U rackmount
Extensive library of tutorials and downloads