The Presonus AudioBox 1818VSL — Incredible Features at an Affordable Price
If you're looking for a real pro audio interface look no further than the PreSonus AudioBox 1818VSL USB Audio Interface. Part of the VSL series, the 1818VSL offers tons of great useful features for the money. The AudioBox 1818VSL is great for everything from project studios and performing bands to school music labs and corporate and contractor applications.
Virtual Studio Live
At the heart of the AudioBox 1818VSL is the Virtual StudioLive™ software (hence VSL in the name). VSL is truly a breakthrough achievement in hardware and software integration. VSL takes the core concept and features of the StudioLive™ 16.0.2 digital mixer and brings it to the AudioBox 1818VSL. Through an innovative driver/software design, Presonus has made near zero latency mixing and DSP processing of inputs possible over a USB 2.0 connection. Unlike some other audio interfaces on the market that have expensive processing chips within the hardware itself, the VSL software on the host computer handles all mixing and processing, all while keeping latency at a maximum of 6ms or less.
VSL features the same Fat Channel processing as the StudioLive 16.0.2 digital mixer. Each channel has a variable high-pass filter, 3-band semi-parametric EQ, compressor, and limiter. These can be either printed to your recordings or used solely for monitoring purposes. VSL also has 2 FX buses with 50 different reverb and delay presets. Awesome!
Wireless iPad® Control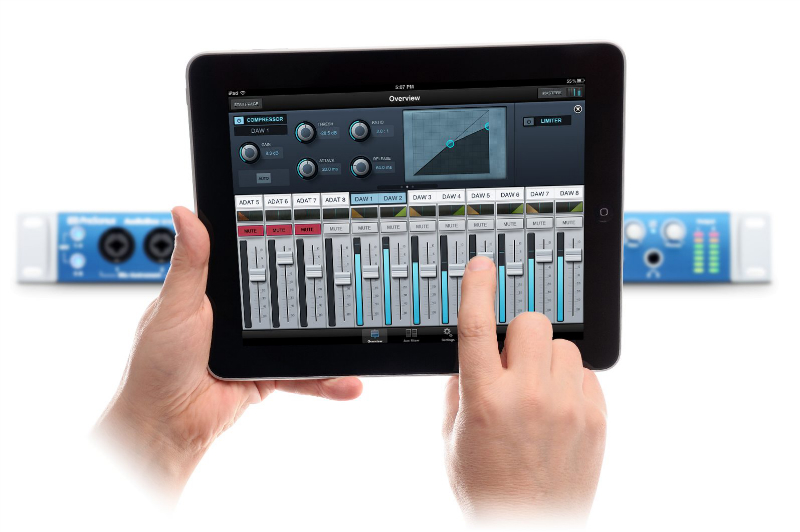 Imagine that you're doing a recording session and you've got the guitarist in the hallway, the drummer in the garage, and the vocalist crammed in a closet. Your recording setup is in another room altogether. Wouldn't it be nice to leave your hallowed seat at the controls and be with the musicians when they need you, while still controlling your mix?
Or how about that next gig where you have to bring your own PA, only to find out the room is smaller than your living room at home with nowhere for a good FOH mixing position?
Enter AB1818VSL Remote for iPad®! Since the host computer is handling all of the mixing and processing through the VSL software, the VSL Remote can connect to the computer via a Wi-Fi network and give you complete control of your mix. Control the FOH mix as well as the Aux mixes for the band all from an easy to use iPad interface.
AudioBox 1818VSL Features:
High-End 24-bit, 96 kHz converters (+114db dynamic range)
8 Class A XMAX preamps
8 (@44.1kHz or 48kHz) or 4 (@88.2kHz or 96kHz) Channels of ADAT optical I/O
S/PDIF Stereo Coaxial I/O
World-clock output
MIDI I/O
Heavy-Duty rack-mount metal chassis
26x8 software mixer
High-powered 120 mW headphone output
The 1818VSL is both versatile and portable and enables you to manage processing and mixing from your Mac or PC. With two front-panel mic/instrument combo inputs and 6 front-panel mic/instrument combo inputs as well as true 48 V phantom power and 8 line-level outputs, the options are endless.
Presonus Studio One Artist Included!
Not only do you get an incredible multi-channel audio interface, the AudioBox 1818VSL includes Presonus' groundbreaking DAW software Studio One Artist. The 1818VSL integrates perfectly with Studio One. The Artist version comes with great plugins, GBs of free content, unlimited track counts and lots more.
Presonus AudioBox 1818VSL Owner's Manual (PDF)
AudioBox 1818VSL Computer System Requirements
Windows
Windows® XP SP3, Vista x64/x32 SP2, Windows 7 x64/x32 SP1
Intel® Core™ Duo or AMD Athlon™ X2 processor (Intel Core 2 Duo or AMD Athlon X4 or better recommended)
2 GB RAM (4 GB or more recommended
Mac
Mac® OS X 10.6.8 or later
Intel Core Duo processor (Intel Core 2 Duo or Intel Core i3 or better recommended)
2 GB RAM (4 GB or more recommended)
Window and Mac Systems
USB 2.0 Port
Internet Connection (only for activation)
DVD-ROM drive
Monitor with at least 1024x768 resolution
20 GB hard-drive space
Internal or external 7200 RPM storage drive highly recommended
*The minimum system requirements may differ for DAWs other than Studio One. Please check the requirements for your DAW of choice with its manufacturer.
*Note that the speed of your processor, amount of RAM and size and speed of your hard drive will greatly affect the overall performance of your recording system. Also, a more powerful system (faster processor with more RAM) will allow for lower latency (signal delay) than you might experience while monitoring audio or MIDI signals. Monitor resolution for both PC and Macintosh should be no lower than 1024x768 pixels.